When it comes to Ultraviolet disinfection technology, Citra is a superior choice. Citra, together with Lazrtek™, offers the manufacturing industry UV lighting solutions. These UV fixtures are an effective and innovative disinfecting solution, protected by patents from Violet Defense™, making them the preferred choice for many building owners, managers and professionals across the nation. This patented design allows significant UV energy transmission, without the fogging, cracking or discoloration that occurs over time.
UV-C Technology
Lazrtek's product lines, Helo and Sentry Mobile, powered by Violet DefenseTM technology, represent a significant advance in the defense of germicides. Citra uses Lazrtek's solutions for broad-spectrum light like germicidal UV-C, UV-B and antibacterial UV-A.
UV-C is most generally referred to as germicidal UV, capable of killing bacteria, viruses, mold and fungus. Many professionals in the assisted living industry choose UV-C disinfection technology to kill bacteria on commonly touched surfaces. With UV lighting technology in the senior living community, you can ensure employees, seniors, and visitors that they are in a safe setting. With Lazrtek's disinfection lighting products:
It kills 99.9 percent of bacteria and viruses
Fixtures can be mounted strategically on walls or be mobile to be moved from room to room
Safest solution on the market with automatic sensor shut off
Xenon lamps require less energy, which saves money, and no maintenance
Today, with viruses threatening our society, it is crucial for the assisted living industry to be alert and proactive in order to play their part in keeping their community safe. There are hundreds to thousands of people that can come and go within a facility which can become a common breeding ground for bacteria and viruses. It's important to improve the standard of cleanliness all while using solutions that do not add as a health hazard. LazrTek is thrilled to be in the business of protecting you and your loved ones through quality UV lighting disinfection by LazrtekTM.
What is Ultraviolet Disinfection?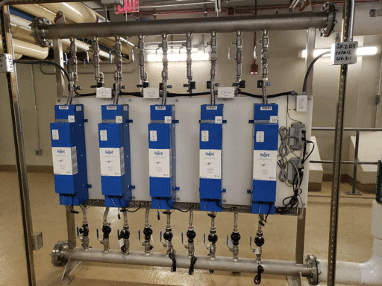 UV disinfection is a broad-spectrum, non-chemical disinfection technology used in commercial, industrial, and healthcare settings for the inactivation of microorganism. UV disinfection is generated in special UV lamps. A watertight quartz tube surrounds each lamp. The liquid to be disinfected is passed through the quartz tubing where gas plasma generated in the lamp emits intensive UV light. When microorganisms are exposed to the germicidal wavelength of UV light, their cellular DNA and RNA absorbs the wavelengths, thereby damaging their nucleic acid. This modifies the DNA of the microorganisms to be unable to divide and reproduce, thus rendering it inactive. UV provides rapid inactivation of bacteria, viruses, yeasts, and molds.
Why Ultraviolet Disinfection?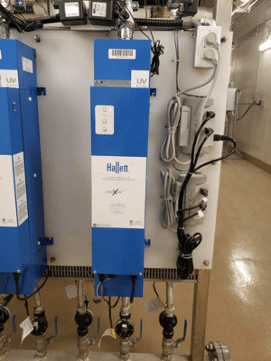 Advanced UV systems are the first line of defense against harmful bacteria in your incoming water including protection against COVID-19. UV disinfection inactivates the broadest spectrum of microorganisms, including cysts like Giardia and Cryptosporidium, and viruses and bacteria such as Mycobacteria, Pseudomonas, and Legionella. UV water disinfection of drinking water destroys harmful microorganisms, including cysts, viruses, and bacteria and is energy efficient with minimal maintenance.
Ultraviolet disinfection inactivates the broadest spectrum of microorganisms.
LAZRTEK uses HALLETT® water purification systems with Crossfire Technology® which outperforms conventional systems by delivering highly effective UV dosage rates for the inactivation of pathogens, viruses, and bacteria. Our UV disinfection system delivers non-toxic, continuous disinfection at the point-of-entry. Our system utilizes Ecoray lamps, which are more robust than traditional UV lamps while cutting energy consumption by 25%.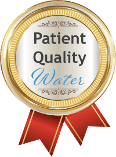 Our ultraviolet disinfection system incorporates two proprietary high-output UV lamps, with elliptical reflectors that target pathogens with radiation from 254nm applied 360° through the water. Our system uses dual smart UV sensors mounted in air, which cannot foul. The air-cooled lamps maintain consistent levels of UV output. We also integrate computerized
While Ultraviolet disinfection is effective when treating waterborne bacteria and viruses, it is not a standalone option to disinfect your drinking water. Ultraviolet disinfection systems work best when paired with point-of-entry filtration, copper silver ionization, and point-of-use filters.
Features and Benefits
UV Pure's Hallett UV systems employ revolutionary Crossfire Technology® that is self-cleaning, self-monitoring and fail-safe. The Hallett® system eliminates the risks associated with conventional single-lamp UV systems.
By combining with point-of-entry filtration to address corrosion particulate and copper silver ionization to address replicating bacteria, your facility would have the broadest spectrum approach for eliminating drinking water concerns in your building water system.
Validated to reduce pathogens to safe levels—minimum of 99.99% reduction and effective in water 10 times harder than conventional UV systems.
Stainless steel patented automatic wiper-blade system keeps quartz free from scaling or biofilm.
Digital monitor, visual and audible alarms, event notifications, on-board data logging, self-diagnostic troubleshooting logic and more.
See How Ultraviolet Radiation affects Coronavirus