The 2021 Global Shortage of Shipping Containers from COVID-19
Freight consumption set to rise in U.S.A. exacerbated by Covid-19 and unprecedented winter storms.
Freight shipping is in the midst of a unique and unusual predicament. An unforeseen cascade of events caused by the pandemic has us facing a worldwide container shortage crisis. It's a crisis because the lack of containers has a ripple effect down entire supply chains, disrupting trade on a global scale.
Where are all the containers?
So where have the containers gone? Many are in inland depots. Others are piled up in cargo ports, and the rest are onboard vessels, especially on transpacific lines. The largest container shortage is in Asia, but Europe also faces a deficit.
To grasp why the containers are where they are, it's important to first understand the domino effect that has led to the present situation of the Global Shortage of Shipping Containers. Let's start at the beginning.
Pandemic wave creates North American bottleneck
As the pandemic spread out from its Asian epicenter, countries implemented lockdowns, halting economic movements and production. Many factories closed temporarily, causing large numbers of containers to be stopped at ports. To stabilize costs and the erosion of ocean rates, carriers reduced the number of vessels out at sea. Not only did this put the brakes on import and export, it also meant empty containers were not picked up. This was especially significant for Asian traders, who couldn't retrieve empty containers from North America.
Then, a unique scenario developed. Asia, being the first hit by the pandemic, was also the first to recover. So while China resumed exports earlier than the rest of the world, other nations were (and still are) dealing with restrictions, a reduced workforce and minimal production.
A consequence of this is that almost all of the remaining containers in Asia headed out to Europe and North America, but those containers did not come back quickly enough. Massive workforce disruptions due to coronavirus restrictions in North America affected not only ports, but cargo depots all across the country as well as inland transport lines. Without adequate staffing, containers started to pile up. As borders tightened, customs became more complicated to clear as well, worsening congestion. In addition, there were rapid shifts in trade lane demands that were challenging for carriers to adapt to.
There was no time to clear the very large backlog of containers with limited workers before more started arriving. North America currently faces a 40% imbalance; which means that for every 100 containers that arrive only 40 are exported. 60 out of every 100 containers continue to accumulate, which is a staggering figure considering the China to USA trade route sustains on average 900,000 TEUs per month. That'sduring a normal year; the current shipping volume is at record highs this quarter (up 23.3% compared to last year, according to Descartes Datamyne)
While continuously assessing the situation, it is evident that the transpacific volume from Asia headed stateside aren't slowing, offering no recovery time. Why?
Carriers jump on lucrative transpacific profits
Container shipping rates have been surging on all East to West shipping routes since May, with the highest rate upturn hitting the transpacific. The Drewry World Container Index is currently at its highest in four years. Eastbound container freight rates have not just increased a lot since the beginning of the COVID-19 outbreak; they have more than doubled, eclipsing all historical highs. SE Asia to US rates have spiked from around $2,000 up to an eye watering $4,500 per 40ft container.
Alpha liner reports that carriers can get 66 cents (per 40ft container per nautical mile) on the Shanghai to LA route against less than 10 cents on the return. Even better rates are on Shanghai to Melbourne with 88 cents, or Shanghai to Santos with 75 cents. The pressure is on to get containers back to Asia so that carriers can take advantage of these margins, empty or full. The Asia to US and Asia to Oceania trade routes have become so lucrative that carriers aren't even waiting for cargo before sending containers back to Asia, especially when the cargo isn't available at port.
Global container fleet shrinking
Compounding on the shift in trade imbalances and bottlenecks is that production of new containers is woefully low. The rate was already down in 2019 and dropped even further this year, especially when demand fell dramatically in Q1 2020. The scrapping of containers now exceeds the building of new ones, causing inventories in factories to plummet. It will take months before more vessels and containers are built, meaning capacity likely won't normalize until Q2 2021.
This limited access to available containers is also driving up the buying price of new containers, since manufacturers know demand is such that they can charge at a premium. Chinese container manufacturers, who dominate the market, now charge around $2,500 for a new container, up from $1,600 last year. Likewise, container leasing rates have rocketed, up by around 50% in the space of just six months.
The race for available containers
Needless to say, the lack of containers can't satisfy current shipping demands, and we have a full-blown container crisis on our hands. Any available containers are booked out immediately, which is why we strongly urge our customers to book cargo as early as possible.
Although there are some measures underway to help resolve the deadlock, such as carriers attempting to reduce free time and detention period as well as more efficient unloading systems, realistically we won't see the global container shortage crisis returning to normal for the coming months. Unfortunately, it's also predicted that contract freight rates will remain high throughout next year.
A carrier source told The Loadstar: "We have had to sail light a few times recently as there are just not enough boxes at depots [in China] to meet the demand."
All carriers report severe shortages of the popular 40ft high-cubes (HCs) at their depots, and there has also been a run on 40ft standard boxes – even 20ft containers are sometimes showing as unavailable.
The latest container availability index report from Container xChange shows availability across China "still at a record low".
It adds: "Due to the fast increase in demand after months of blank sailings, container availability for 40ft HCs across China is currently at just 0.05 CAx points, compared with 0.63 at the same time last year." A reading above 0.5 indicates a surplus, below suggests a deficit.
Forwarders have had to scramble for boxes due to the more lucrative transpacific trade securing the biggest share. However, big spikes in spot rates from Asia to Europe in recent weeks seem to have levelled the playing field on competition for boxes between the two tradelanes.
To mitigate the serious equipment imbalance, ocean carriers have adopted an aggressive strategy for European and US exports, temporarily suspending bookings, preferring to fill backhaul ships with as much empty equipment as possible.
Indeed, to deter all but the most valuable cargo, European exporters to Asia are being asked to pay in excess of $5,000 per 40ft to secure a December shipment, and one UK forwarder told The Loadstar many carriers were now refusing to accept export bookings until mid-January.
"Our customer is prepared to pay these crazy prices, but we are still really struggling to get boxes away as the ports are all jammed up. We have had some boxes sitting on the quay for over four weeks now, and we still don't know when they will get loaded," he said.
Meanwhile, the empty equipment so desperately needed back in Asia is scattered around depots across Europe, particularly in the UK, where embattled ports have been forced to limit the restoration of containers back onto already overcrowded terminals.
Meanwhile, a survey by Container xChange, in association with German maritime research consultant FraunhoferCML, suggests that despite technological advances, containers still spend a surprisingly long time empty at depots, incurring storage costs and not earning revenue.
"All containers are very much in need; they still spend on average 45 days empty at depots," says the report, which surprisingly suggests that areas which suffer from shortages have higher dwell times.
"Especially in regions with low container availability such as China and the US, the average is comparably high, with 61 and 66 days respectively, compared with the global average of 45 days," notes the report.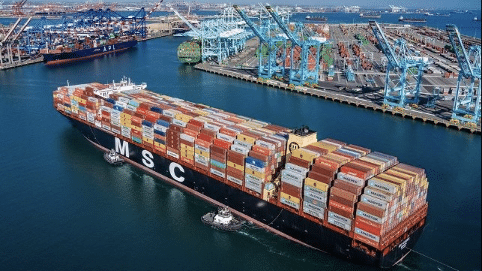 Los Angeles Addresses Backlog and Diverts Ships as Volumes Rise
The 2021 Global Shortage of Shipping Containers is Easing with Chinese New Year as Turning Point
The ongoing shortage of containers that started in the second half of 2020 has been one of the big challenges for shippers and carriers alike. While some forecasts expect the container shortage to continue well into 2021, a new analysis by Container xChange, a platform to buy, sell and lease containers, shows a positive trend in availability. They are suggesting that the upcoming Chinese New Year holiday period could be the turning point.
The container shortage began in mid-2020 as the demand for goods grew in the wake of the first wave of shutdowns around the globe. As containers grew more difficult to locate, prices skyrocketed to record highs, and shipping lines imposed equipment surcharges.
Container xChange is reporting a positive trend for its Container Availability Index. Developed by Container xChange, the index tracks millions of container moves to monitor and forecast equipment availability.
"An index of 0.5 describes a balanced market, below 0.5 a shortage of containers", according to Dr. Johannes Schlingmeier, CEO of Container xChange.
To illustrate how tight the situation became in major ports they highlight Shanghai, a city they say is traditionally known for a deficit of containers. The index reached record lows in December 2020 of 0.13 for 40DCs and to an even lower 0.08 for 40HCs. That represented a decline of 75 and 83 percent compared to equipment levels in the first quarter of 2020.
"With a growth of 37.5 percent for 40HCs and even 200 percent for 40DCs in January compared to December 2020, the Container Availability Index finally shows a positive trend for shippers and forwarders who are looking for equipment in Shanghai," says David Amezquita, Head of Data Insights at Container xChange.
The index is showing a return to normal levels in Shanghai and other major ports across China. In Qingdao, the index shows a balanced equipment situation. Similarly, at other major hubs across Asia, including Singapore and Port Klang, the Container Availability Index shows the same trend. Compared to December 2020, container availability is up 58 percent in Singapore and 54 percent in Port Klang across standard container types in January 2021.
Looking at the forecasts, Container xChange says the indications are that the equipment situation will remain stable in the coming weeks. Until mid-February, the Container Availability Index will settle at around 0.35 for 20DCs and even 0.38 for 40DCs.
The positive container availability trends prove that actions taken by the shipping lines are working says Container xChange. They reported that the aggressive repositioning, which has grown by 125 percent in December on their online platform, along with the increased number of newly built containers contribute to normal availability levels again.
'It's a perfect storm': Global Shortage of Shipping Containers crisis has upended the global food trade
Food is piling up in all the wrong places, thanks to carriers hauling empty shipping containers
Food is piling up in all the wrong places, thanks to carriers hauling empty shipping containers.
Global competition for the ribbed steel containers means that Thailand can't ship its rice, Canada is stuck with peas and India can't offload its mountain of sugar. Shipping empty boxes back to China has become so profitable that even some American soybean shippers are having to fight for containers to supply hungry Asian buyers.
"People aren't getting their goods where they need them," said Steve Kranig, director of logistics at IM-EX Global Inc., a freight forwarder that handles cargoes including rice, bananas and dumplings from Asia to the U.S. "One of my customers ships 8 to 10 containers of rice every week from Thailand to Los Angeles. But he can only ship 2 to 3 containers a week right now."
The core issue is that China, which has recovered faster from COVID-19, has revved up its export economy and is paying huge premiums for containers, making it far more profitable to send them back empty than to refill them.
There are signs that the soaring freight rates are boosting the cost of some foods. White sugar prices surged to a three-year high last month, and delays in food-grade soybean shipments from the U.S. could mean higher tofu and soy milk costs for consumers in Asia, said Eric Wenberg, executive director of the Specialty Soya and Grains Alliance.
Food costs
While it's not entirely uncommon for containers to transit back empty after a voyage, carriers usually try to backfill them to profit from shipping rates in both directions. But the cost of carrying goods from China to the U.S. is almost 10 times higher than the opposite journey, prompting liners to favour empty boxes instead of loading them, Freightos data showed.
At the port of Los Angeles, the U.S.'s biggest for container cargo, three in every four boxes going back to Asia are travelling empty compared with the normal 50 per cent rate, said Executive Director Gene Seroka. In Vancouver, containers remain in the yards. Terminals have shortened the time to transport the stuffed boxes onto ships from three days to as little as seven hours, said Jordan Atkins, vice president of WTC Group.
"It's not possible to get the amount of volume we have here in Vancouver to return containers in those tight windows," said Atkins. "Pulses in general are struggling getting on the ships," he said, referring to crops like peas and lentils. Canada is the world's second-largest producer of pulses.
India, the world's second-largest sugar producer, exported only 70,000 metric tons in January, less than a fifth of the volume shipped a year earlier, said Ravi Gupta, president of Shree Renuka Sugars Ltd, the nation's top refiner.
Vietnam, the largest producer of the robusta coffee beans used to make instant drinks and espresso, is also struggling to export. Shipments dropped more than 20 per cent in November and December, said Le Tien Hung, chairman of Simexco Dak Lak, Vietnam's No. 2 exporter.
Around the world, some foodstuff buyers are waiting while others have halted purchases altogether, traders say.
'Shortage of everything'
"It's been like that since December," said Kranig of IM-EX Global. "You're going to get not only a shortage of food but a shortage of everything. I would not be surprised to hear some beneficial cargo owners' freight rates for 2021-2022 shipping season double from previous years."
If that prediction bears out, once the bulk of North Americans and Europeans are vaccinated, some of those high freight rates could be passed on to them as they return to cafes, restaurants and office towers.
The Global Shortage of Shipping Containers comes just as American shippers are trying to boost exports of everything from soybeans to grain meals to Asia. China is scooping up American crops to feed a hog herd that's recovering from a deadly pig disease faster than most expected. The situation is so dire that some buyers are cancelling contracts, opting for bulk shipping methods, the most common for feed products, or delaying purchases to avoid high freight costs.
"We know that some of the industry's largest and most consistent buyers of soybean containers in Asia over the years are now electing to buy bulk vessel supplies," said Doug Grennan, vice president for select global grain and oilseeds at Scoular Co., a century-old trader that's one of the U.S.'s largest shippers of agricultural goods in containers. "And certainly like others, we had some booking cancellations."
Still, a major global spike in food costs is unlikely. Only a small percentage of grains and oilseeds is traded in containers, said Arnaud Petit, executive director of the International Grains Council in London, with the rest going bulk cargo. It's also unclear how much of the rise in shipping costs companies will be able to pass on to consumers, given the economic slowdown caused by the coronavirus.
Suspending shipments
Hapag-Lloyd AG last year told customers it was suspending overseas container shipments of North American agriculture products to reposition empty containers back to Asia. Nico Hecker, director of global container logistics at the German sea-freight company, said in November that the firm was experiencing the strongest increase in demand for 40-foot containers following one of the biggest decreases ever.
"As containers became scarce in Asia, demand outpaced supply" along all container routes, said Judah Levine, research lead at Freightos. Some carriers have canceled sailings in coming weeks to catch up from delays, he added.
The pandemic has also upended flows of refrigerated containers. In China, boxes are piling up at ports as workers have to comply with strict COVID-testing procedures as well as disinfection of meat and seafood products after frozen-food imports were blamed for the spread of the virus. There are so many cold containers in Dalian that the port is running out of power plugs to keep them on.
As imports are being held up, wholesale pork prices in China, the world's top consumer, jumped to the highest since September. That's prompted the government to boost sales of state pork reserves to meet booming demand ahead of the Lunar New Year holiday.
Labor shortages due to the spread of the coronavirus have slowed operations at ports, and worsening the container shortage. Strikes in Argentina have also boosted demand for American agriculture products to supply Asia, increasing competition for boxes.
"It's a bit of a perfect storm." "You have pent up demand in Asia for agriculture products and that's at the same time you have a pretty substantial consumer goods demand in the U.S. When you add to that some of these labor issues, that's what really crated the scarcity you are seeing."
Explore the truck wash opportunities and prepare yourself when this crisis ends