Automated truck washes provide a thorough cleaning for 18-wheelers, tractors, trailers, buses, trucks, and RVs. LazrTek expert is here to answer questions.
Compared to handwashing using pressure wands, it is approximately 10 times faster!
In a hand wash facility, a truck wash is quite expensive. When you consider lost utility of ~3 hrs, that's about 210 miles of income per mile that the loaded truck/trailer missed. Also, the driver cost, insurance cost, and cost of the wash must be considered. Therefore, the average cost of a truck wash today at a hand wash facility is over $250 in actual cost.
If you are considering investing in the truck wash business, there are a few key factors you should consider before investing.
The most commonly asked questions about automatic truck wash systems are reviewed below:
How Much Land Is Necessary for a Truck Wash?
We recommend 3-4 acres if you are considering a multi-bay truck wash to allow plenty of room for 53' tractors and trailers to have room to maneuver on the lot.
How Much Space Must a Wash Bay Have To Accommodate an Automated Truck Wash System?
Be sure you have enough room if you want to succeed and have a "good flow" for the entering and leaving trucks.
For a typical 2-step wash, the wash bay should be at least 90 feet long, although 100 feet is recommended. For a typical 2-step wash, the wash bay should be at least 18 feet wide, but 20-25 feet is preferable.
You can get away with a lesser length, like 50 to 60 feet, if it's just a 1-step wash, but 80 feet is the suggested length.
Additionally, you will require an equipment room for the air compressor, electrical panels, pumps, tanks, water softeners, power washers, chemicals, detergents, and electronic system controls. We recommend constructing an equipment area that is at least 12 feet by 40 feet in size immediately adjacent to and connected to the wash bay.
What Kind of Electric & Water Utilities Are Needed for an Automated Truck Wash?
You need access to water, drainage, and electricity in addition to size and room.
A reliable 2-4 inch water supply with a minimum 50 GPM at 50 PSI of output. It could be well or municipal water. City water might be a better supply for pressure and water softening if the water cost is affordable.
Verify the wash bay has sanitary sewer access. The ideal connection is to a municipal sewer with a minimum 4-inch drain.
Finally, you require adequate electricity. The chemical application and detergent pumps, as well as rinse pumps in an automated truck wash, will consume a fair amount of electricity. Any 3-phase power source will work with our devices with 480V 3-phase being ideal. 
How Is a Truck Wash Different From a Car Wash That Is Automated?
The size of the vehicles being washed is the most apparent difference. The surface area of a typical tractor-trailer is roughly six times that of a typical automobile or standard-size pick-up truck. Tractor trailers weigh between 10 and 20 times more than an average vehicle or truck.
As a result of the extreme size and excess weight, the sprayers are higher up, the wheel washing unit cleans the complete tire, and there frequently is a rear blast to clean the back of the cab and trailer. All of these features indicate the automated fleet washing equipment was designed with trucks in mind.
The entire design is geared toward cleaning large trucks. In addition, compared to the normal passenger car, many trucks have variable and sometimes atypical shapes.
An automatic brush system may not be able to clean it as thoroughly because it will be more difficult to reach behind the cab or into grooves.
Cleaning vehicles with irregular shapes entails using a touchless wash procedure for the majority of the wash, which enables the chemicals and pressure to complete the task that a brush might overlook.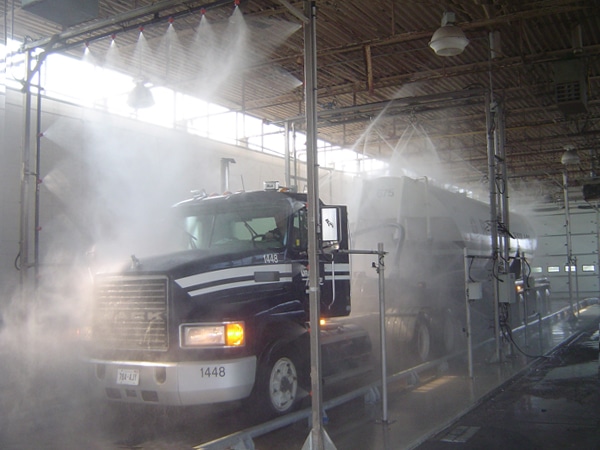 What Are the Various Types of Automated Truck Washes?
The two major machinery categories for automated truck washes are gantry on top of which the truck is parked and the wash is transported back and forth along tracks. The other is a drive-through where the vehicle drives through while the equipment is anchored.
Although a gantry wash can fit in a compact area, there are some drawbacks to using one.
Due to the numerous moving components, gantry wash systems can be more expensive to maintain and can take longer to finish a wash cycle because the equipment, not the vehicle, is moving. Additionally, since a gantry is on a predetermined track, cleaning any kind of car with an irregular shape can be more challenging.
To help clean confined spaces, they are frequently supplied with a pressure washer. If the driver needs to get in or out of the car in a slick, wet area, they may be at greater risk.
LazrTek specializes in touchless automated truck washes but also has reliable brush washes for those customers wanting friction wash solutions. With fewer moving parts in an automatic drive-through system, maintenance expenses are much cheaper and the equipment is more reliable with less downtime and lost revenues.
Drive Thru automated wash systems frequently clean more quickly (usually less than 6 minutes) use less water, and enable the driver to maximize driving time earning freight revenues rather than spending precious time washing his truck.
How Many Employees Are Required To Run an Automated Truck Wash?
All LazrTek truck washes are designed to require only 1 wash bay attendant to keep labor and operating costs low to maximize wash profits for commercial truck washes and to minimize wash expenses for fleet operators.
How Much Time Will an Automated Truck Wash Save?
A tractor-trailer can be cleaned by hand in about 45 minutes. In 3-6 minutes, a 53' tractor with trailer can quickly pass through an automated truck wash.
The time to wash is considerably more efficient than using a manual 2-step system with a pressure washer and is approximately 10 times faster than washing by hand. Further, the automated truck wash cleaning results are more consistent than hand washing.
How Much Water Does an Automated Truck Wash Use?
The length of the truck and the driver's speed are two factors that affect how much water is used. The typical automated system, however, requires 120- 180 gallons to wash a single tractor-trailer. 
Washing by hand, using a power washer at 4 GPM for 45 minutes will use about 180 gallons of water per pressure wand. Typically 2 to 4 wands are used in a hand wash system so total water consumption runs at least 540 to 720 gallons of water.
Can the Truck Undercarriage Be Cleaned by an Automated Truck Wash?
An undercarriage wash is a common feature on all Hydro-Chem Systems automated truck washes, but it isn't always the case with other systems.
Some fleets, like those of dump vehicles and plow trucks, call for a little more focus on the undercarriage. We might suggest upgrading to an enhanced undercarriage wash for these kinds of cars in order to remove the tough mud and frost.
What Does an Automated Truck Wash Cost?
Fleet cleaning requirements will determine exactly what is needed. However, the cost of the equipment, plumbing, electricians, and installation as a package can vary from $185K to over $500K, depending on the options chosen and the demands of the fleet and geographic location.
How Much Do Chemicals Typically Cost for a Wash?
This depends on the kind of wash system, the chemicals and detergents used, how filthy the trucks and trailers are, and how frequently each truck and trailer is washed.
Chemicals used in an automated wash typically cost between $5 to $7 per tractor and trailer.
Is Purchasing an Automated Truck Wash a Good Investment?
An automated truck wash in a good location can expect to wash approximately 2500 tractor-trailers per month. With an average tractor-trailer wash in the USA being $85 per wash currently, gross revenues of $212,500 per month are achievable, if not more.
At an average investment of $1.5mm to $2.5mm for a truck wash and annual gross revenues of $2.55mm, a good return on investment may be realized. Let LazrTek help you achieve these economic goals and others you may set for your truck wash enterprise.
If you would like a free consultation with a truck washing expert, contact LazrTek today or call us at (469) 536-8478.